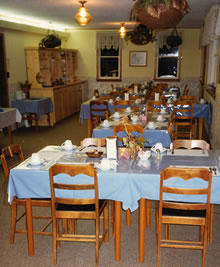 Our restaurant Will be open starting Wednesday, June 26, 2019.
Open 6 days a week, for dinner (closed on Tuesdays) from 6:00pm until 8:00pm. Check out our meal packages when booking a cottage or motel!
Our menu features a variety of our favourite homemade Swiss dishes. Every meal is guaranteed to be freshly prepared in house by our Swiss chefs. Friday nights spots are limited for our legendary Fish Fry. The famous buffet with fried fish, freshly prepared salads, baked beans and homemade desserts.
Celebrate with us. We can help to plan a special menu for your Birthday, Anniversary, Family Reunion or other event. You are welcome to contact us any time.
Our restaurant is fully licensed by the Alcohol & Gaming Commission.