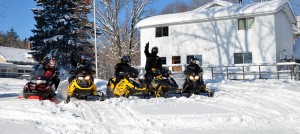 We welcome you to our winter wonderland! Located directly on trail AR501 we are accessible by car or snowmobile. It doesn't matter if you want to stay one night or one week. We have the suitable accommodations for you. Don't forget to bring your ice fishing gear, snowshoes and cross country skis. There is a lot to explore!
Settler's Lodge
We can accommodate groups of up to 14 people in our spacious Settler's Lodge. For our housekeeping groups there is a fully equipped kitchen with dishwasher. Enjoy the privacy of having this beautiful building for yourself.
We offer our Settler's Lodge by the room as well. Each bedroom has their own separate bathroom. There is a shared common area with a wood burning stove and oil heat. American plans are available.
Hearty Cabin
Available in the winter is our comfortable 3 bedroom housekeeping cabin, featuring fully equipped kitchen, a dining/sitting area, 3 piece bathroom, electric heat, woodstove and propane BBQ.
Please see our Rates tab for all pricing.