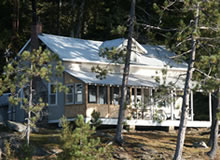 Smoky Lake Lodge is a fly-in-only, American Plan and Housekeeping lodge. The lodge is on an island, making it a very special and unique place. 
American Plan accommodations are beautiful 2 or 3 bedroom cabins equipped with hydro, bathroom, shower, electric heat, fridge and daily maid service. We provide bedding and towels. Breakfast and dinner are served in the dining room, while lunches are provided picnic-style or as a shore lunch.
Housekeeping accommodations are beautiful 2 or 3 bedrooms with electric range/oven, heat and fridge, a fully equipped kitchen and all cooking & eating utensils. Bedding and towels are provided. Guests provide their own personal effects, food, beverages (cans only), fishing & outdoor gear.